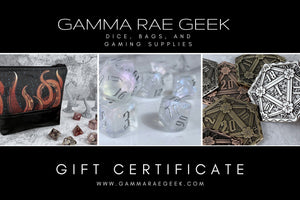 Gamma Rae Geek Gift Card
Make your next gift a critical hit with a gift card for Gamma Rae Geek.
Purchasing this digital gift card creates a unique code. The gift card recipient can enter this code at checkout to subtract the gift card value from their order total.
This gift card never expires and can be redeemed both at our website and at our in-person events once conventions resume.
If you need a denomination not available please just send us a message.
---